Swiss Eye Research Meeting (SERM)
Dear Colleagues,
I would like to invite you to the 2019 Swiss Eye Research Meeting which will be held at the Hotel Mövenpick in Lausanne on the 31st of January and 1st of February 2019.
SERM2019 will start around 10 am on Thursday (Jan 31) and will end around 4 pm on Friday (Feb 1). The meeting will provide a platform especially for young researchers to present their results in a stimulating environment. As in recent years, the meeting will focus on physiology and pathophysiology of the retina but it will also include sessions dedicated to other fields of basic eye research. As last year:
Priority for oral presentation will be given to students (master, phD, MD-phD) and postdocs.
Only 1 to 2 speakers will be accepted per PI, it remains the responsibility of the PI to decide who he/she wants to propose as representative(s) of his/her group.
In addition to the title, an abstract has to be submitted during the registration process (max 300 words). These abstracts will be available after the meeting for the attendees as a meeting report.
Individual participants not affiliated to a research group may present their data during a 10 to 15 minute talk. Of course, time slots and length of presentations will need to be adjusted according to the number of participants.
In 2019, our two special lectures will be given by:
Dr. Christina Zeitz: "Identification of gene defects leading to non-progressive and progressive ocular diseases"
Department of Genetics, Institut de la Vision, Paris, France
Dr. Tom Baden: "Evolution of function in the nervous system - what can we learn from the vertebrate retina?"
Sussex Neuroscience, School of Life Sciences, University of Sussex, Brighton UK
When you register, don't forget to select the Thursday dinner (free of charge!) to share a nice moment together!
Deadline for registration and abstract submission is December 2, 2018.
Looking forward to seeing you!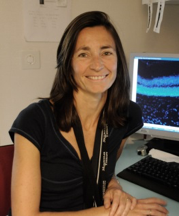 Corinne Kostic, PhD MER
University department of ophthalmology, University of Lausanne,
Group for Retinal Disorder Research
Hôpital Ophtalmique Jules- Gonin, Fondation Asile des aveugles,
15 av. de France, 1004 Lausanne
corinne.kostic@fa2.ch, +41 21 626 82 62